Same restaurant. New address!
Moved to 1463 Lionel-Boulet Boulevard, Suite 104, Varennes, QC J3X 1P7
Our events

"Raw Tuesday!" every tuesday
see our menu in the menu section

Blind Wednesday
5 surprises courses menu 69$ for 2 people ( reg price 89$)

Ladies Night Thursday
40% off on the menu ''à la carte'' for ladies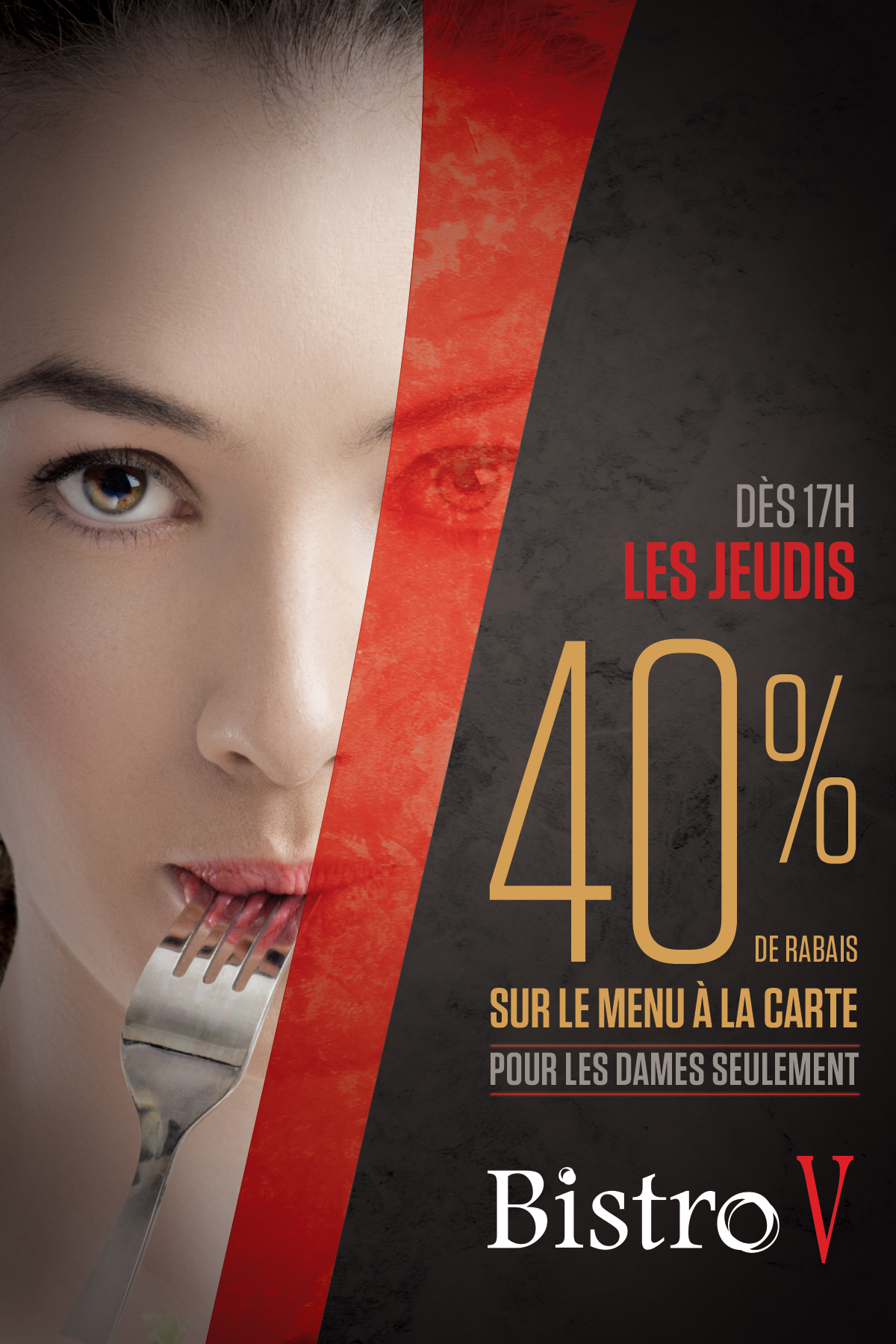 Bistronomy
Our passionate team can't wait to welcome you.
Our cuisine is made from local products, so it is ever-changing, according to the season. Our cellar holds over 1,500 bottles and offers a wide selection of wine that is sure to please every palate. Take a seat and let us serve you!

At Bistro V, we want to share our passion for the art of cooking in an intimate, cozy setting.
THE ROOMS
BISTRO V IS THE PLACE TO CELEBRATE WITH FAMILY AND FRIENDS!
We'll help you plan your event! Whether you're planning a wedding, a birthday or anniversary, a family reunion, a business meeting or event, a cocktail reception or other, we've got several rooms to meet your needs.
Call us to find out more:
450-985-1421
Le Comptoir V, Sandwiches & Catering
The team
A HAPPY AND SKILLFUL PARTNERSHIP INSPIRED BY A PASSION FOR THE ART OF COOKING.
Following the great success of the renowned gourmet restaurant L'Autre Version, which they left in May 2014, Benoit Marcotte and Stéphanie Gemme chose to share their love for the art of food service. The pair, along with chef Anthony Lussier, created Le Bistro V in March 2012. The trio opted for an enhanced bistro cuisine, or "bistronomy". Le Comptoir V, Sandwiches & Catering came to be in September 2014 and La Méchante Virée followed in August 2015.
Benoit Marcotte
Owner
A native of Boucherville, Benoît Marcotte has been working in the food service industry since 1992. He graduated from Lasalle College, in Montreal, with a degree in Hotel Management in 1997. From maître d'hôtel to sommelier, Benoît honed his skills to become a seasoned manager. His dedication earned him much success, especially in planning banquet events and wedding receptions, at which he excelled. He's now in charge of the service staff and oversees the chef's design of the menus, on top of his administrative tasks.
Stéphanie Gemme
Owner
Originally from Saint-Amable, Stéphanie Gemme graduated from Collège Ahuntsic, in Montreal, with a degree in Paralegal Technology. She mainly worked for one of the largest notarial offices on the South Shore of Montreal, in the commercial and corporate sectors. Later on, she decided to team up with partner Benoît Marcotte and together, they now share their passion for the art of cooking on a daily basis. Today, she manages their three businesses and even sometimes lends a hand with food service.
Anthony Lussier
Executive Chef
Hailing from Saint-Hyacinthe, Anthony Lussier is quite the culinary arts enthusiast. At 25, he earned a degree in institutional cooking and since then, he has garnered many certifications and honours. The young and talented chef has been a part of the Bistro V adventure since the beginning and he leads the kitchen with a bold and inspired energy. At once chef and partner, he brilliantly showcases the Bistro V menu by adding artfulness, imagination and novelty to create surprising and exciting culinary creations.
Contact us
1463, Boulevard Lionel-Boulet, Suite 104
Varennes (Quebec)
Canada, J3X 1P7
T.
450.985.1421

Réservez en ligne
© Copyright 2019 BistroV - All Rights Reserved | Web Design by
Akro.